Youth prisons are hurting families and making Virginia less safe: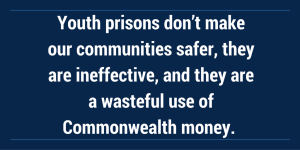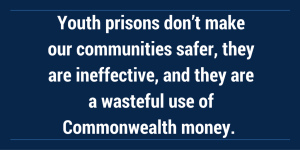 Virginia's two juvenile prisons are over 100 miles away from high committing communities in Hampton Roads and Northern Virginia.
Youth whose families cannot visit them during visitation hours have to pay between $5 and $10 per phone call to their families. These youth make an average of between 35 and 50 cents an hour in their institutional work program.
Families with youth under the age of 18 must pay child support to the Department of Juvenile Justice when they are in juvenile prison. However, these parents have no control over the quality of services their child receives while in prison.
Youth prisons are wasteful: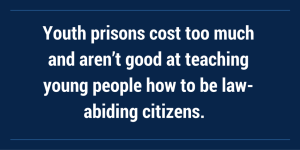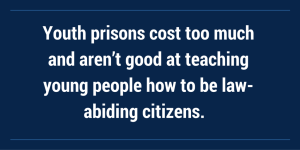 Often costing considerably more than alternatives that have been proven to be more effective, youth prisons are costly and wholly ineffective at teaching young people how to be law-abiding citizens.
38% of the state's Juvenile Justice budget goes to confining youth in these prisons, even though they only serve 10% of the youth in the system.
Youth prisons are unfair: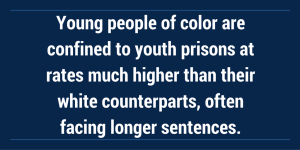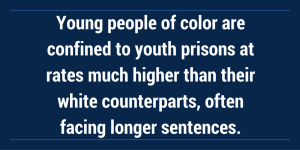 Many young people are confined to these facilities for low level offenses, and young people of color are confined to these facilities at rates much higher than young white people, despite young people of color making up fewer of the total juvenile intakes into the juvenile justice system.
Less than half of the youth admitted to the Department of Juvenile Justice custody in 2014 were admitted on person felonies, many on misdemeanor of probation violations. Furthermore, though young people of color were only 43% of the intake population in 2014, they account for over 70% of the commitments to the system.
Incarcerating youth in large prisons far from home doesn't work: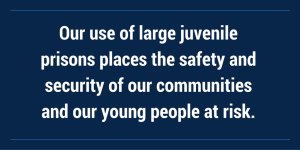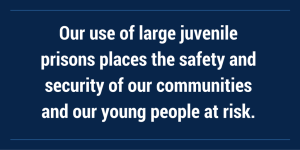 When young people get out of youth prisons, they are more likely to come home and commit further crimes, instead of being directed towards a better path
For every year spent in a youth prison in Virginia, a young person's probability of being arrested for another crime when they get out increases by nearly a third.
Virginia's latest 3 year re-conviction rate for youth committed and released from a juvenile prison is 73.5%. (DJJ Data Resource Guide 2014)
Virginia can do better.
There are alternatives to youth prisons that are proven ways to hold young people who commit a crime accountable for what they've done while ensuring they have the tools, skills, and community support to avoid committing more crimes when they return home. These methods are common sense and evidence-based. Alternatives to youth prisons, like Functional Family Therapy, Multisystemic Therapy, Restorative Justice, and Multidimensional Treatment Foster Care, actually yield a return on the state's investment, and are proven to reduce recidivism rates by 10, 50, and even 70% when implemented correctly.