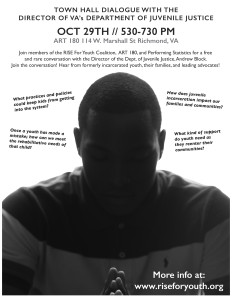 Date: Thursday, October 29th
Time: 5:30pm-7:30pm
Location: ART 180 (114 W. Marshall Street, Richmond, Virginia)
RSVP Here
What if incarcerated youth and others impacted by the juvenile justice system were consultants for the Department of Juvenile Justice (DJJ) on how to improve the system for kids and their communities? On October 29th, the Director of DJJ, Andrew Block, will sit with and hear the stories of impacted youth, families, and community members. This candid discussion will cover four topics: 1) prevention (what practices and policies could keep kids from getting into the system), 2) alternatives to youth incarceration (once a kid has made a mistake; how can we meet the rehabilitative needs of that child?), 3) family and community engagement, and 4) reentry supports for youth who come in contact with the system.
Media Related to the Town Hall Dialogue
Richmond Town Hall on Juvenile Justice Reform Public News Service
Town Hall Meeting on Juvenile Justice Set in Richmond  Washington Post
Town Hall Meeting on Juvenile Justice Set in Richmond  Associated Press