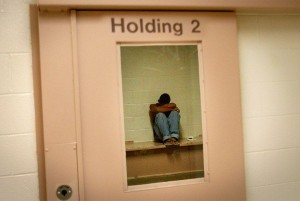 (Photo: Jessica Rinaldi/Reuters)
Rebecca McCray is a staff writer covering social justice. She is based in New York.
Without the support of his family, Da'Quon Beaver doesn't know how he would have made it through the seven years he spent behind bars beginning at age 14.
"My mother was there for me every step of the way," Beaver told TakePart. "A lot of youth [in prison] don't get visits, don't get the attention that they need. But they were just like me—I want some attention, I'm young, and I want to be loved. They didn't have that support system."
Two years after his release at 22, the Richmond, Virginia, native is dedicating his life to changing the way kids like him interact with the juvenile justice system. Since last May, he has worked with RISE for Youth, a project of the Virginia-based Legal Aid Justice Center focused on community alternatives to youth incarceration.
Read more here.