FOR IMMEDIATE RELEASE CONTACT:
May 31, 2016
Jeree Thomas, Esq.
JustChildren Program, Legal Aid Justice Center
804-521-7310 | jeree@justice4all.org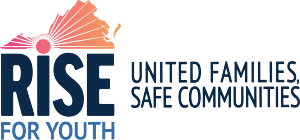 Coalition Calls on Task Force to Consider Smaller Facilities, Continuum of Community-Based Care for Youth. & Include Impacted Youth, Families, Communities 
(Richmond, VA) – Today, representatives of the RISE for Youth Coalition called on members of the Virginia Task Force on Juvenile Correctional Centers to consider small facilities (25 beds or less) and a less correctional, more therapeutic model based on the Missouri approach, as well as a continuum of community-based programs and services for youth in juvenile justice, and to ensure that directly impacted youth, families and their allies are part of the task force's deliberations.
"I strongly encourage the task force to look more into the costs and benefits of a range of facility types, including Missouri-style facilities," says Laura Goren, Research Director of The Commonwealth Institute and a member of the RISE for Youth Coalition. "Missouri appears to achieve good outcomes at a lower operating cost than Virginia's traditional model."
According to national experts, Missouri is considered to have a model approach for juvenile corrections because of its very low recidivism, abscondence, and suicide rates. Research on Missouri shows that three years after discharge, approximately 69% of their youth have avoided further involvement with juvenile justice or adult corrections. Missouri's facilities are small and regionally based, utilize a group therapeutic model, and have limited correctional staff.
"An investment in Missouri model facilities and in a continuum of community based alternatives that includes feedback from youth and families in Virginia, is an investment in public safety, our economy, and our kids," says Kate Duvall, Attorney at JustChildren and member of the RISE for Youth Coalition who visited Missouri's most secure facility, a 30-bed facility located on Hogan Street in St. Louis, Missouri, in November, 2015.
The Task Force on Juvenile Correctional Centers was created by Budget Bill (HB 30) and will consider the future capital and operational requirements for Virginia's juvenile correctional centers including the construction of a new facility in Chesapeake and whether to renovate or construct a second facility. Members of the Task Force include the Secretary of Public Safety and Homeland Security, and the Directors of the Departments of Juvenile Justice, Corrections, Behavioral Health and Developmental Services and the Office of Children's Services.
"The Task Force should provide a membership role for a youth and/or family member of a youth who has been involved in the DJJ system or held in its facilities," says Amy Woolard, Senior Policy Attorney at Voices for Virginia's Children and member of the RISE for Youth Coalition. "To ensure the impacted community's voice is heard, the Task Force should consider holding events outside of workday hours, at easily accessed locations, and working with local community groups and families to help make the events as meaningful as they can be."
The Task Force on Juvenile Corrections is required to present an interim report by November 1, 2016 and a final report by July 15, 2017 to the Governor and the General Assembly. Information on the task force can be found at: http://www.djj.virginia.gov/pages/about-djj/jcc-taskforce.htm.
###
RISE for Youth is a statewide, nonpartisan campaign coalition whose central goal is to develop a continuum of community-based alternatives to incarceration that will keep juvenile justice system involved youth closer to their homes and support networks while making our communities safer. For more information on RISE for Youth, visit: www.riseforyouth.org.