Trapped in a Vice: The Consequences of Confinement for Young People
Thursday, April 5, 2018 at 7:15PM
Location: Old Dominion University 129, Kaufman Hall, Norfolk, VA
For more information:
https://www.facebook.com/events/1047267995410900/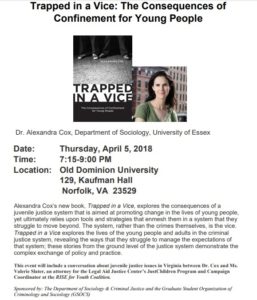 Board of Juvenile Justice Meeting
Wednesday, June 15, 2016 at 9:30am | 600 E. Main Street, Richmond, VA Fl. 12 Conference Room
For more information:
http://www.djj.virginia.gov/pages/about-djj/djj-board.htm
Board Packet:
http://www.djj.virginia.gov/pdf/bjj/board_packet.pdf
Save the Date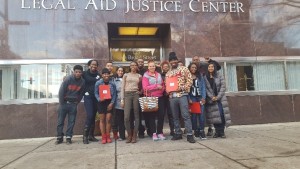 Youth for RISE Advocacy Network Launch Event
Saturday, June 25, 2016
The Youth for RISE Advocacy Network is for youth ages 13 to 24 who  have been impacted by the school to prison pipeline or the juvenile justice system.  This event will include information about how to join the network, how to advocate for positive changes at the community and state-level, and a spoken word contest.
Want to be a part of planning this event?  Contact Da'Quon Beaver at daquon@justice4all.org
More information visit: http://www.riseforyouth.org/about/youth-for-rise-advocacy-network/
RISE for Youth Coalition Meeting
Monday, June 27, 2016
Location: TBD
5:30pm-7:30pm
This coalition meeting will focus on building community-capacity to support youth in their homes and communities rather than in juvenile prisons.  We will have a special guest speaker, Ruben Austria, Executive Director of Community Connections for Youth (CCFY), discuss effective community-based alternatives.